Tell us about yourself
My name is Reece Sheridan, I'm a student of Piper's Hill College in Naas, Co.Kildare and currently National Ambassador for Transition Year Ireland. I'm a strong believer in the notion that young people should take every opportunity to motivate themselves, and others, to achieve their full potential and firmly believe that investing in people is always a promising idea. I've a strong interest in humanitarian causes and youth leadership which has allowed me to work with national and international organisations such as the Irish Second-Level Student's Union, National Youth Council of Ireland, Hugh O'Brien Youth and Rotary International. Whenever I'm not attempting to change the world for the better, I always enjoy listening to music, watching films, doing outdoor adventure sports such as kayaking or bouldering, hanging out with mates or finding ways to travel Europe as a teenager with no income! I'd describe myself as an ambitious, extroverted, committed and friendly young man. In recent times, I've been working on a variety of projects with several individuals and organisations so I'd describe myself as very busy at this moment in time!
What is your opinion of Transition Year?
As one might expect, I'm an avid supporter of transition year. I've been asked this question plenty of times yet I never tire of giving my opinion! I think transition year could best be described as the only designated opportunity for young people to spend quality time focusing on themselves, their skills, their goals and their futures without the pressure of exams. It's a unique programme offered exclusively in the Republic of Ireland (however I would love to see it replicated in other countries). As young people, we're often asked about our goals and future aspirations yet standard education often fails to offer the time and resources to do this, fortunately transition year fills that void. On a personal note, the lessons I've learnt this year did not come from a textbook, they came from experiences. That being said, such learning cannot be measured by grades or percentages but by memories and skills. Transition Year offers a different kind of education which I believe every young person deserves so that they may have the best future possible for themselves.
What are some of the activities you participated in during Transition Year?
To say that I've taken part in a lot of activities in these past nine months is an understatement. One of the things I learnt this year is that not all classrooms have four walls and a whiteboard; through modules, courses, workshops and talks I've done things I never dreamt of doing! In school, I tried new modules that were previously unfamiliar to me such as construction studies, home economics and music. Beyond the classroom, I completed the bronze Gaisce award, fundraisers for various charities, autism ally programme, presented the annual talent show, managed the Bank of Ireland build-a-bank and was chairperson of our student council. However, the activities I did outside of school are equally as interesting as those inside of school! For instance, I completed a social media marketing course with Stein Study, I was thoroughly involved with the Irish Second-Level Student's Union in developing the "ISSU's Tools For Inclusive Schools Charter" which believe it or not is now formally recognised by the Department of Education and Skills and finally I became involved with the European Youth Parliament and am now recognised as an MEYP for the Republic of Ireland. I've done all this and more over these nine long months and encouraged others to do so too! Transition Year is comparable to a vending machine: put something into it and you'll get something out of it.
What do you get up to as this year's TY Ambassador?
Being this year's National Ambassador for Transition Year Ireland is an absolute pleasure but also a great responsibility. My work includes (and is by no means limited to) attending and speaking at events on behalf of the organisation, giving presentations at conferences across the country, reporting on events and individuals related to young people, assisting with the social media of the company and consulting with various individuals and groups working on projects which are directly aimed towards transition year students. I love this role as it has allowed me to meet so many outstanding individuals (such as yourself TY.ie), gain so many valuable skills and work on an array of interesting projects making a positive impact for so many young people.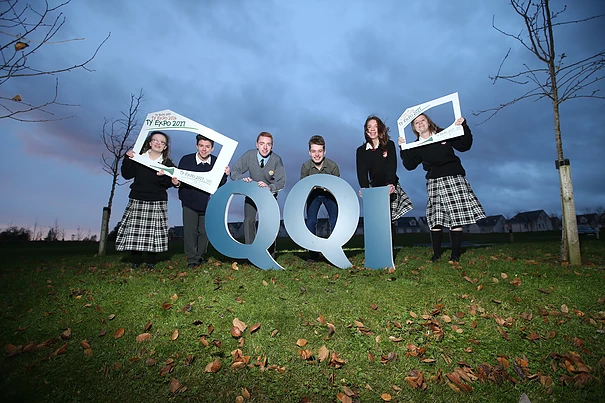 What career are you interested in?
People will ask you this question quite a lot throughout your transition year experience and it reminds me of when I was four years old except now I can't respond with "pirate" as a valid answer! This year has really helped me to decide which career paths I'd like to pursue and which paths I certainly wouldn't. I'm highly interested in the areas of politics, business and education. My work experience and career guidance were excellent at granting me exposure and skills to help me achieve these goals. Externally of school I've been investigating these further, particularly college courses as I understand that the coming years will be very hectic and to have a head start is always a benefit.
What advice would you give to Transition Year students?
I was asked this exact question in a personal reflection sheet in class and I struggled to answer it simply. It's challenging to condense so much wisdom and knowledge from nine long months into twenty words or less, however I somehow managed to do it in five! The greatest piece of advice I could give is "jump in the deep end". What that means is to take risks, live in the moment, learn from your mistakes and don't ever look back. That thought has stuck with me ever since and I'm sure it will stick with me for many more years to come.
How do people get in touch with you?
I hope it has come across clear throughout this interview that I'm very much a people person and love helping others in whatever they do! I can be contacted via the following platforms…
Email: rhys.sheridan.101@gmail.com
LinkedIn: www.linkedin.com/in/ reecesheridan
Twitter: @rhysher101
Snapchat: rhyssheridan